April 19, 2006
Por: Manuel Clavell Carrasquillo en
desvío
In Opera, a Different Kind of Less Is More: 'Handel and the Castrati'
By ALAN RIDING
The New York Times
LONDON, April 13 — More than most art forms, opera demands a suspension of disbelief. For a long time this included accepting that a man could sing with the voice of a woman. It was not a natural gift, but the results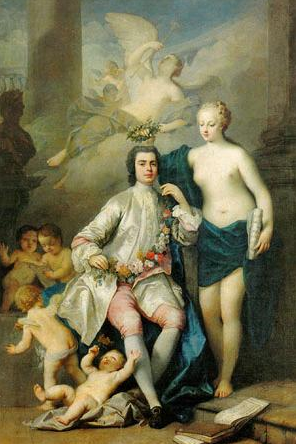 often drove audiences wild: castrati, as they were known, were among the rulers of the 18th-century opera stage.
True, most of the Italian boys who were castrated to preserve their unbroken voices never achieved fame . Yet enough did to encourage some impoverished parents to allow one or two of their sons to undergo this pre-pubescent mutilation. In the 1730's, it has been estimated, as many as 4,000 boys were so altered each year.
Intense musical training followed, so that, by their midteens, the youths were ready to sing in church choirs. Then, with opera all the rage from Naples to Venice, the best voices were selected by theater managers for the stage. A few became stars across Europe. Those seeking the highest fees headed for London, where Handel was presiding over a boom in Italian opera.
"Handel and the Castrati," a revealing small show at the Handel House Museum here through Oct. 1, tells their stories. On display are a few objects, including an 18th-century iron "castratori" instrument, as well as paintings, engravings, music scores and recorded excerpts from Handel operas and oratorios, with castrato roles now sung by counter-tenors and mezzo-sopranos.
The museum is housed in what was Handel's Mayfair home from 1723 until his death in 1759, so it is likely that some castrati also sang here. And to hear how they might have sounded, there is a rare castrato recording from 1902. In a soprano voice a tad thicker than that of a woman, Alessandro Moreschi can be heard singing Gounod's arrangement of Bach's "Ave Maria."
By all accounts, what distinguished the castrato's voice was that it combined a woman's range with a man's lung capacity and muscular strength. In fact, many castrati were unusually tall. And, having undergone musical training at a time that their rib cages were expanding, they were particularly adept at coloratura and other ornamentation typical of Baroque opera.
They became necessary, however, only after the Vatican banned women from church choirs in the mid-16th century. Thus, if Monteverdi wrote four castrato roles for "Orfeo" in 1607, it was also because no women could sing them. A Vatican decree prohibiting castration was evidently ignored: Moreschi, nicknamed the Angel of Rome, joined the Sistine Chapel Choir in 1883.
Still, by the 18th century, women were also singing onstage, with Faustina Bordoni and Francesca Cuzzoni among the stars of Handel operas after that German-born composer moved to London in 1711. Yet such was the aura surrounding Italian castrati that Handel created several operas around their crowd appeal, starting with his London debut opera, "Rinaldo," and the alto Nicola Grimaldi.
The castrato most associated with Handel, however, was Francesco Bernardi, better known as Senesino, who was born in Siena in 1686 and was already a legend by the time he reached London and sang Handel's "Radamisto" in 1720. He also sang in the premieres of "Giulio Cesare," "Orlando" and "Rodelinda." By the time he returned to Italy for good in 1736, he was immensely wealthy.
If Senesino was often moody, Handel had more trouble with Giovanni Carestini, who had a two-octave mezzo-soprano range and was described by one contemporary as "tall, beautiful and majestic." Legend has it that Carestini rejected the score of "Alcina" as insufficiently brilliant. This show records Handel's furious response: "You dog! You think you know better than I do what is best for you to sing? If you don't sing, I won't pay you."
But Handel needed Carestini because he alone could rival Carlo Broschi, known as Farinelli, who was arguably the most popular castrato ever and who, to Handel's intense displeasure, refused to sing for him. Worse, Farinelli performed for Handel's competition at the Opera of the Nobility.
Evidently, star castrati could afford to be capricious. One, Luigi Marchesi, refused to appear in any opera unless he made his first entry on horseback, singing his favorite aria. Two of Handel's castrati, Gioacchino Conti, known as Gizziello, and Gaetano Majorano, known as Caffarelli, reportedly carried their rivalry back to Naples with them.
What mattered was that they could fill a theater. And in this, their mysterious sex appeal, to both men and women, was a factor. No greater expert than Casanova wrote of one castrato: "To resist the temptation, or not to feel it, one would have had to be cold and earthbound as a German." Further, many castrati were said to be virile sexual partners for women, not least Caffarelli, who was famously chased by his mistress's husband.
Indeed, some English satirists took delight in suggesting that the expensive presents given to castrati stars were tributes to their talent in bed, not onstage. Or as one 1735 ditty put it: "Think'st thou for empty Sounds they thus present;/ Thus they give out, but other Things are meant."
Another 1735 pamphlet, inspired by Hogarth's "Rake's Progress," even suggested some envy:
Who would not be unmann'd to gain
What they with so much Ease obtain?
For tho' they lose the Pow'r of Harm,
The Women know they yet can charm.
The castrati era lasted through Mozart into the 19th century. Meyerbeer's opera "Il Crociato in Egitto," performed at the Teatro la Fenice in Venice in 1824, is said to be the last work written for a castrato, while in 1844 Paolo Pergetti became the last castrato to appear on a London stage. In 1870, Italy finally banned castration, and in 1903 the Vatican excluded castrati from church choirs.
By then, of course, sopranos and tenors were the opera superstars. Yet, in a sense, they benefited from the castrati legacy: the tradition of adulating opera singers was not only well entrenched, but the difficult and temperamental personalities of divas — and divos — were also somehow expected. Still, even the most adoring fan today is likely to emulate a woman's heartfelt cry in 1735: "One God, one Farinelli."